BRAND AND CLOTHING LABELS (THE DEFINITIVE GUIDE)
1.What are brand labels
2.What do brand labels mean to your brand?
3.Different types of labels
4.What are their advantages and disadvantages
5.Using and Attaching Labels
6.Types of fold
7.Backing
8.Start designing my label?
9.Manufacturing your own labels
This guide will talk about everything you need to know about branding and clothing labels !
So if you are looking to get some custom branding labels and clothing labels made or designing them , this is the right place.
What are brand labels ?
A brand label usually is a small piece of fabric featuring your company or personal details, most commonly found in clothing labels but also used for many other products. Detail including something simple like a logo or some wording, or you may want to have more information on there; website details, a tagline, simple washing instructions or more.
Labels are all about expressing a unique identity and making a product stand out in the crowd. Brand labels are great for companies wanting to express their brand identity. Standard label sizes usually vary from 20mm-70mm, depending on your needs. The more complicated your design is, the larger the label will need to be and this will increase your production cost.
Please don't hesitate to ask us if you are unsure and would like some advice on label size. We manufacture labels for many purposes, both business and personal.
What do brand labels mean to your brand?
Custom brand labels give your product a clear identity that defines it from other available products on the market. The identity of your brand is the most important thing to consider when designing your products. Who are you? What do you do? What is your business ethos? Who is your target audience? The answers to these questions can be expressed in your custom brand logo and description.
Your brand identity is what will convince the consumer that your product is the one they want. The best way to visually express your brand identity is with brand labels. Without brand labels products tend to look amateur and unprofessional. Deciding to use custom brand labels is a great benefit to your brand because they help you stand out from the crowd and make your product easily identifiable.
Custom brand labels can be used simply to display your logo, or they can be positioned in a way that uses them to advertise your product. Either way, we guarantee that if you choose to use custom brand labels for your brand, you will be creating products that look professional and high quality, and you will be encouraging consumers to easily recognize your brand in the future. Here are some ways you can use custom brand labels to make the most of your brand identity:
> FOOD AND DRINK LABELS: There are so many options for people today when they are buying food and drink, why not create a beautiful label for your packaging and make your product stand out on the shelf?
>PACKAGING: You can use your labels for all kinds of packaging – paper bags, plastic containers, bottles, packets, jars, boxes… the options are endless!
> WINE BOTTLES: No one wants to buy wine that has a boring label. Make sure your brand is easily identifiable and aesthetically pleasing and design a label for your wine bottles. You can include your brand logo and create a unique image to show your brand's identity.
> GARMENTS: Attaching a kind of label is very important for garments (also known as clothing labels) people need to know the size and care instructions. However clothing labels don't have to be boring. Use your brand identity to create an interesting brand label that makes people want to wear your clothes!
Different types of labels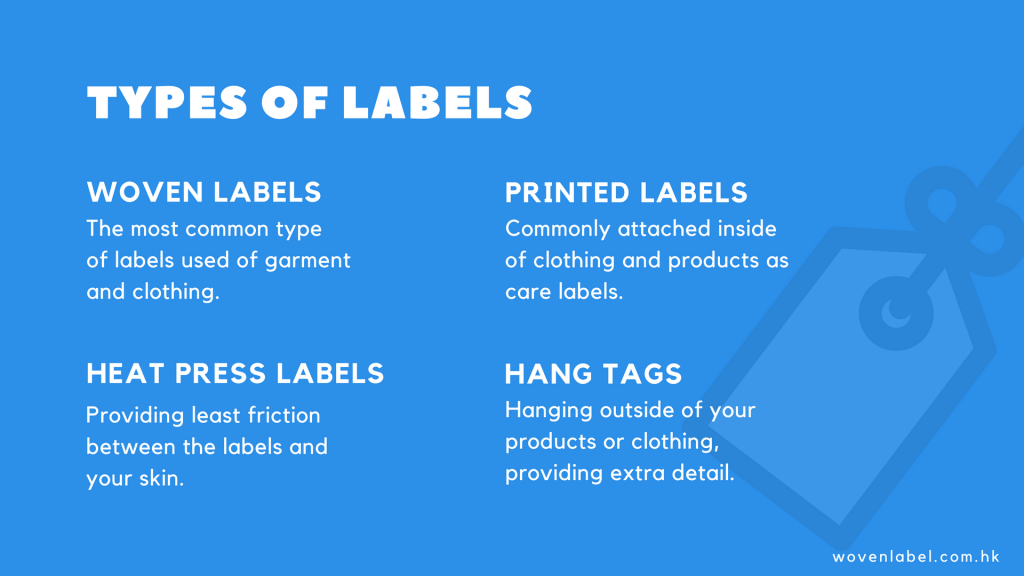 It is important to understand the different types of labels so that you choose the best one for your product. The main thing to keep in mind when choosing a label type is the simplicity of your design. If your design has too much detail then some label types won't be suitable. These are the differences in label types:
> WOVEN LABELS
Woven labels are the most common type of label used for clothing and garments, due to the thin, fine thread used which allows more detail to be included in words and patterns on your label. Woven labels should be highly dense and contain a good quality yarn. They are very popular due to their cost value! Damask woven labels are the most common type of woven label.
> PRINTED LABELS
Printed labels are most commonly attached to the inside of clothing. They are often printed with care instructions or garment size. Printed labels has been used as care labels commonly
> HEAT PRESS LABELS
Heat press labels create the least amount of friction between the material and your skin, which makes them the most popular label choice for sportswear. The main issue that arises with heat press labels is that the color can sometimes rub off over a long period of time due to the direct contact with skin.
> HANG TAGS
Hang tags are not attached directly to the product or garment, they hang from a string and provide information such as price, care instructions, manufacturer, or material. Hang tags are usually larger than labels that are attached to a product, therefore they can contain more detailed information. Hang tags are what a customer will look for first when considering buying your product, as this is where most of the important information will be easily visible.
What are their advantages and disadvantages
WOVEN LABELS
√ Your labels won't fade: Due to our high-quality materials, the labels we produce are long lasting and highly durable. The thread color won't fade and your labels will look as good as new for a long time!
√ Textured Products: Sometimes you may have an idea of how you want your product to look but you don't want to change elements such as color or wording. This is when labels are great to use, as they enable you to keep your original design whilst adding another layer of texture and creating a unique finish that you can't achieve with other products.
√ High-End, Professional Appearance: Labels are an easy and cost effective way to create a very professional look. By attaching labels your products will look high-end and will increase in value.
× However it might not suit all style: For example, it is seldom to get woven labels attached on silk material products.
PRINTED LABELS
√ Easily go on the inside of garments: so they are only visible to the owner, and as they contain important information they are designed to stay in the garment for the customer's benefit.
√ Cost-effective type of label
× Might not cause comfort: As printed labels are often fastened to the inside of clothes, a disadvantage is that they need to be relatively small so they do not cause discomfort to the person wearing the garment. If you are wanting to include lots of information it is a good idea to add a hang tag as well.

HEAT PRESS LABELS:
√ Cannot be felt inside garment: Heat press labels are great for clothing (especially sportswear).
√ Minimal friction: between the material and the skin, which makes them the most comfortable type of label for clothing.
× Colors might fade over time: due to their direct contact with skin, the color usually fades over time and sometimes the label will even wear off completely due to sweat and lots of use.

HANG TAGS
√ More detail can be written: The best thing about hang tags is that they are often much larger than other labels, which means they can contain much more information.
√ Adding extra information: If you are struggling to fit everything you need to write on another kind of label, a good idea is adding a hang tag to your product to make sure your customer gets all the information they need.
× Not directly attached to the product: therefore often get discarded almost immediately after purchase.
× Cannot be used long-term: If you are wanting to create a label with important long-term information, you will need to also use another kind of label that is attached directly to your product.

Using and Attaching Labels
High-end fashion brands generally use woven labels, as they look professional, attractive, and more bespoke than other forms of clothing labels. However, they are not only used on garments but also on a wide range of items. Their purpose is to create a unique way for you to express your individuality, so there are endless ways you can use your labels! Here we have created a list of our favourite ideas to get you started:
> Clothing Items: This may seem obvious if you are using your labels for uniforms, but why not also look through your wardrobe and see if you have any clothes you are bored with? Instead of throwing them out, try attaching labels to them and they will look like brand new clothes! This is a great way to get yourself clothes with the exact design you are wanting!
>Album cover: Why not use a label on the cover of your album instead of just printing? This will create another layer of texture and make your unique cover stand out from the rest!
> Paper bag: Labels can be easily attached to paper bags to add extra value and create a more eye-catching product for your brand; using labels will make your bags easily identifiable.
> Furniture: It is popular among sofa brands to add woven labels to the sides of their furniture, making their products unique and easily identifiable.
> Replacing stickers: Labels can be easily designed with adhesive backing, allowing them to completely replace stickers as promotional products!
> Weddings: You can create a logo for your wedding and get it woven into labels to stick on gifts to make your wedding more memorable! Having a unique label is a beautiful way for you and your loved one to start your life as newlyweds together!
> Shoes: Labels can be sewn either inside your shoes or on the outside edge, depending on what look you are aiming for. Adding labels to your shoes can make your outfit more interesting and will catch people's attention!
> Socks: Socks can be boring and easily lost. A great way to keep track of your socks is to sew a unique label on them! Everyone will know they are yours and socks are a great garment to use for accessorizing!
>Backpacks or bags: Bags that are plain colors and common designs can often get lost in the crowd. Sew woven labels into your bag to express your individual style and make sure everyone knows it's yours!
TYPES OF FOLD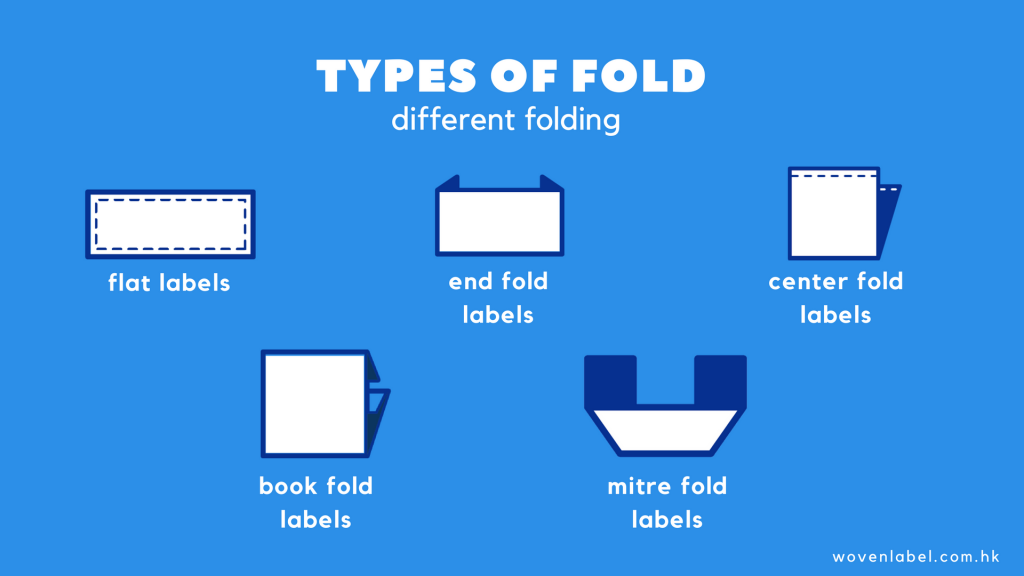 These fold types are commonly seen in both woven and printed labels:

> Flat labels: These labels lie flat on your products, creating a sharp, crisp edge. They are commonly used for size tags or brand labels positioned in the inside collar of garments.
> End fold labels: These are like flat labels, but feature an extra 7mm seam allowance added to both edges, creating a clean finish and allowing the label to make more of a statement.
> Centre fold labels: The top and bottom of the label are both sealed and then folded across the centre. This gives you space to add extra information to your label such as care instructions, laundry symbols, country of manufacture, or types of materials used to make the product.
> Book fold labels (hem tags): These are like centre fold, but the seam allowance is folded inward. They are commonly placed on sleeves. Book fold labels are very popular as they are the easiest kind of label to attach to ready-made garments. Your logo can be seen from both sides of the label if you wish, or you even have the possibility of putting a different logo on each side. This is great for advertising or trying to get more people to notice your logo. Please let us know if you would like to know more about this option!
> Mitre fold labels – These feature ends that have been turned over and up at a 90˚ angle. This is a less common option; however, it makes it easy for you to hang your product from the label if you wish to! However only do this if your product is light in weight, otherwise it may cause the label to rip. Mitre fold labels can sometimes cause discomfort to sensitive skin, as they stick out and rub the most out of all the types of labels.
BACKING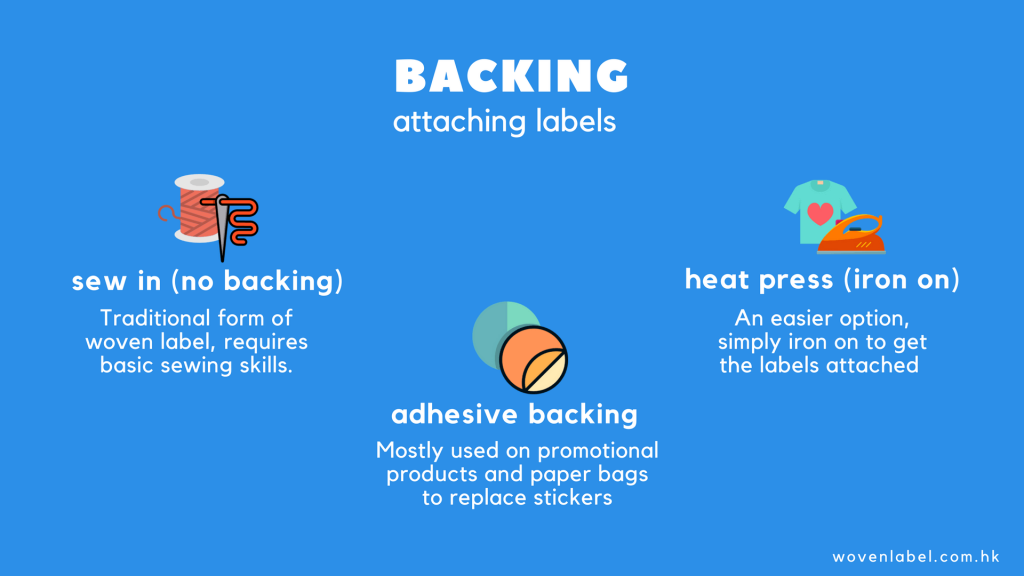 Backing is only used for woven labels, not printed labels. However, iron on woven labels and sewn woven labels are essentially the same product, the only difference is the kind of backing they have. The backing determines what kind of material the label can be attached to. The various forms of backing that we use are as follows:
> Sew in (no backing): These are the most traditional form of woven labels; however, they require basic sewing skills to get them sewn onto material. If you aren't confident with sewing you can always enquire at your local sewing shop and ask for assistance, they will probably be happy to help you!
<