Sewing idea # 1 : Home decor
Starting from today,we will explore different sewing idea and gather them into different themes every week and we are starting with home decoration this week 🙂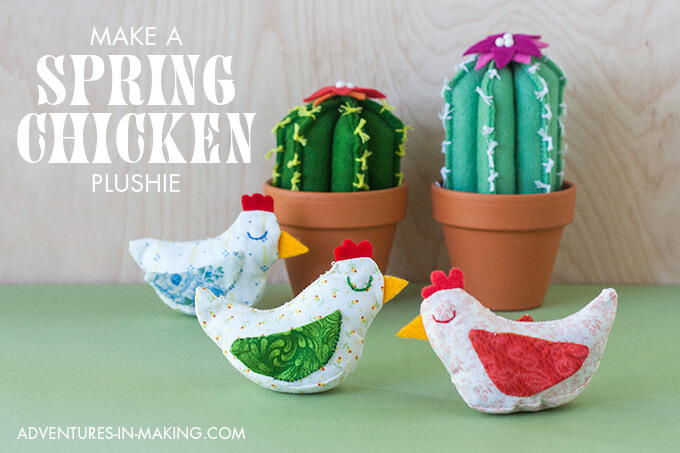 SPRING CHICKEN PLUSHIES
Although it's summer now, this spring chicken plushies would still look good at home as a decoration. Rachel has made this DIY easier with the Free Pattern. The best thing for this chicken is that it doesn't require the sewing machine so you can completely sewn by hands. If you get the free pattern printed and follow the instruction by Rachel, I'm sure you will get this cute chicken made successfully. Yet, you can change the fabric to seasonal colors to match with your home!
.
CURTAIN TUTORIAL
Curtain is one of the basic at home, choosing different fabric for the curtain can make your home totally different. Liz wrote a curtain tutorial for beginners with only 6 easy steps!
.
PHONE CHARGER HOLDER
Mobile phone has become one of the necessary, making a charger holder with warm-feeling fabric would make your home sweet! Yet, this holder allow you to hang the phone right next to the charger and you can put all the wire in the pocket. No more messy wires 🙂 Here is a easy tutorial written by Bev and you can make them in only 30 mins !
.
GEOMETRIC PILLOWS
Are you bored with the standard square pillow ? Why not make it different. Here is the tutorial of making Geometric Tasseled Pillows. Kelly has made it super easy with her instruction and you can get this done in only 20 mins! This is perfect for someone who would like to have a quick easy project at home !
.
DIY sewing plant tutorial
This is one of the exciting project to make with your Kids 🙂 Lia made this cute tomato plant with only Fabric and thread. This may take longer time to finish compare to other project but it is definitely worth it and I believe your kids would love it ! Apart from tomatoes, Lia also had a tutorial with making other veggie including potatoes, beets and mushroom etc..
Do you have any home decor ewing idea ? Share in the comment below if you have some !